First Quarter 2021 Real Estate Stats (Leduc)
The onset of 2021 brought a surge of buyers and sellers to many regions across our province. As a Realtor I am always intrigued to see how our quarterly stats compare to past years. Statistics essentially tell us a story about a bigger picture that's unfolding in the market. Our most recent stats offer us a preview of hope, stability, and economic activity amidst the ongoing pandemic.
From January 1st – March 31st, 2021 Leduc had 154 detached houses sell compared to 66 in 2020, representing a staggering 133.3% increase in first quarter sales. The average selling time was only 46 days on market (2021) compared to 72 in the first quarter of 2020. The average price increased from $385,194 (2020) to $392,560 (2021), resulting in a 1.91% increase.
Half duplexes and attached residential dwellings had a combined 28 sales (2021) compared to 18 sales in 2020. They sold 32 days faster, averaging 57 days on market (2021) verses 89 days in 2020. The average sale price increased 8.40% from $288,250 (2020) to $312,464 (2021).
Seventeen condos sold last quarter with an average selling time of 86 days on market, compared to 12 condos sold during the same period in 2020, averaging 89 days on market. Sales prices were consistent for condos, averaging $196,720 (2021) compared to $198,054 (2020).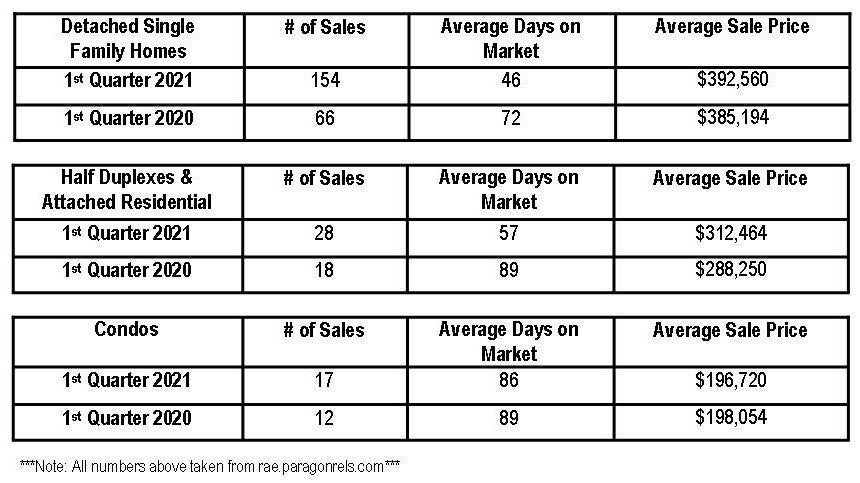 If you're like many who've noticed all of the sold signs in your area and area wondering if now could be a good time to move, feel free to contact us today. We'd be happy to meet with you, get a better understanding of your goals and give you our honest feedback about what options are right for you.
Jason Rustand with RE/MAX Real Estate serves with the highest level of integrity and excellence every time. For more info on this topic or others related to real estate contact LIKE our Jason Rustand Team Facebook page, call Jason direct at 780.919-0004, email jrteam@shaw.ca or visit WeSellLeduc.com