3rd Quarter 2020 Real Estate Sales (Leduc)
Our 2020 third quarter real estate market was more active compared to the same quarter in 2019. We saw an increase in all sales with relatively stable pricing. One reason for the increase is likely because of the delayed spring market due to Covid-19. Thankfully the quarters balanced out with steady and strong summer sales.
Starting with single family detached houses, there were 128 sales in 2020 compared to 125 in 2019, representing 2.4% more detached homes sold. Third quarter houses sold on average in 52 days in both 2019 and 2020 . The average price increased from $365,793 (2019) to $368,649 (2020), resulting in a 0.78% increase.
Half duplexes and attached residential dwellings had a combined 29 sales last quarter compared to 22 during the same period in 2019. They sold 41 days faster, averaging 55 days on market compared to 96 days last year. The average sale price increased to $316,029 (2020) compared to $311,056 (2019), representing a 1.6% increase.
Thirty condos sold in Leduc last quarter compared to 24 the previous year, averaging 71 days on market compared to 95 days in 2019. Average sales price for condos increased 4.0% with past quarter prices averaging $218,440 compared to $209,943 during the same period in 2019.
With numerous industries being affected by Covid-19, we are grateful that real estate in our community and the Edmonton region has remained stable. For homeowners this can bring a sense of security during times of uncertainty.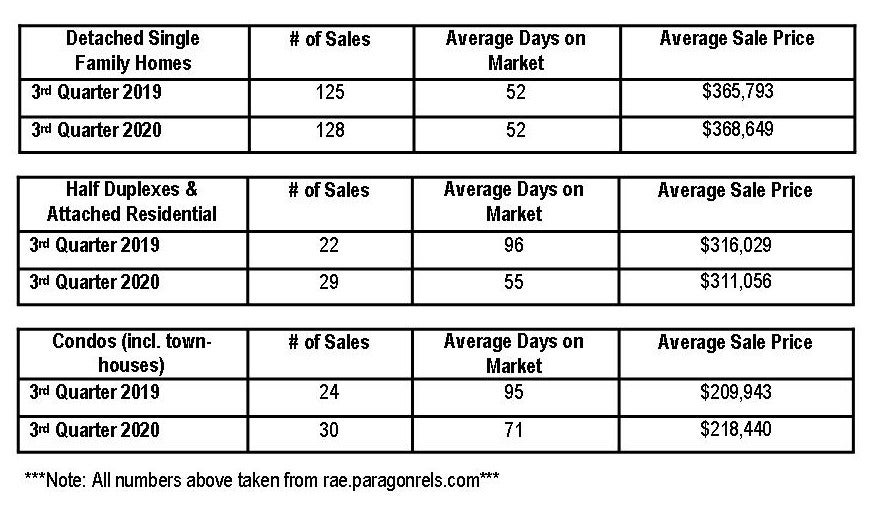 For an accurate measure of what your home is worth, or what homes are selling for in your neighbourhood, call or text us. If you're thinking about buying or selling a home and aren't sure if now is the right time, reach out. We'd be happy to meet with you, get a better understanding of your goals and give you our honest feedback on what options are right for you.
Jason Rustand with RE/MAX Real Estate serves with the highest level of integrity and excellence every time. For more info on this topic or others related to real estate contact LIKE our Jason Rustand Team Facebook page, call Jason direct at 780.919.0004, email jrteam@shaw.ca or visit WeSellLeduc.com