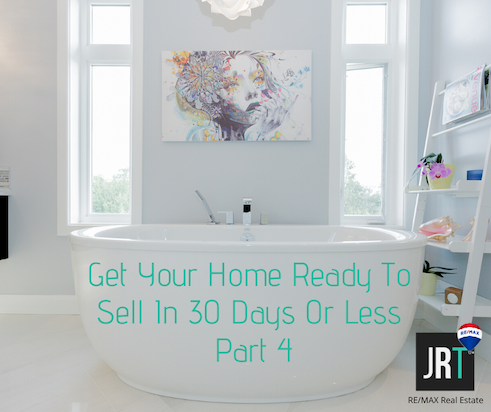 Final touches to sell your home – Part 4
Welcome to part 4 of getting your home ready to sell in 30 days or less. If you missed parts 1-3 we've been outlining a step-by-step plan of action so that your home is sale-ready in 30 days or less. To catch up with our former articles, check out our blog at 
WeSellLeduc.com/blog
. 

This week is all about the final touches. Though the list is lengthy, many of these items will not take much time.
Make an extra set of keys.
A spare key for a lock box helps Realtors and prospective buyers view your home with ease.
Make plans for pets.
We understand that pets are a part of the family, meanwhile, during showings pets can be a distraction for buyers. Make a plan to have your home pet-free during showings. Try doggie daycare, grandparents, friends, or take them for plenty of walks.
Clean the windows.
After a season of rain and snow windows are likely dirtier than you realize. If needed, check out window cleaning services on Groupon or referrals through Social Media pages.
Steam clean carpets.
Unless your carpets are brand new, have them cleaned to pull out odours and stains, while freshening up your entire home.
Fresh touches.
At this point, you're ready to add some final fresh touches. Consider buying new towels for bathrooms, fresh flowers, throw pillows, fresh duvets, a few pieces of artwork or a throw rug to help pull your décor together.
The final clean.
You're just about there!!!! The final clean is where we hit up the areas we haven't got to yet like baseboards, walls, light fixtures etc. Also, do a final clean with tubs, showers, tiles, floors, vacuuming, dusting etc.
The final 'look over'.
You've worked hard this month and we're proud of you! Take an opportunity to step back and admire your hard work. How does everything look? Do you see anything that could distract or turn away a buyer? If so, make any final adjustments.
Photographer.
It's time for a professional photographer to work his or her magic. Photos will be required at least the day before your house is on the market. Having all of this prep work complete allows your photographer to capture your home in its very best state.
As you've followed our step-by-step 4-part series, we are confident your home is now sale-ready. Whether you're just getting started to prepare your home to sell or are at the point of hiring a
Realtor
and want an integrity driven team committed to serving you with excellence give us a call. It is always our greatest honour to serve you!
The Jason Rustand Team with RE/MAX Real Estate serves with the highest level of integrity and excellence every time. For more info on this topic or others related to real estate contact LIKE our Jason Rustand Team Facebook page, call us at 780.980.2828, email jrteam@shaw.ca or visit WeSellLeduc.com.